6 ideas to decorate your home with fashionable textiles
Posted on January 7th, 2019 02:48 PM
Because going around your house can be much simpler than you imagined. You will only need textiles to make your home look like new. Dare to discover new ideas in this post!

Sometimes you want to go around the house or a room in concrete, and paint, stab or replace the parquet or the floor, touch up walls, ceilings or furniture ... but you do not finish. However, decoration with textiles is one of the fashion trends to give your home a new air without spending a lot of money or effort. Fabrics can give any corner a new texture, new colors and a renewed style that, in addition, you can easily replace when you get tired of them.
Next, we give you 6 tricks to use all kinds of fabrics in bedrooms, living rooms and other spaces, which will surely inspire you to apply in your future decorative projects.
1. Use fabrics to separate environments
Do you have a very large room and want to parcel a part? Do you want to reserve an area of ​​the room and away from the view? The fabrics are a perfect solution to create separate environments in a flexible way and with a light, manageable appearance, without the danger of knocks and without works to partition or put new walls or cabinets. You can also let them hang at the height you want, tie them with a bow at the bottom to pick them up and open them when you prefer, or tie them to the ground with rails to tighten them and give them a more solid appearance.
2. Design your own paintings with fabrics
Textiles are great complements to decorate walls and you can apply them directly on their surface, as well as placing them on supports, wooden frames or any structure. Also, you can leave them on the air or frame them. It is a great idea to take advantage of pieces of cloth whose colors or patterns you love and do not want to throw away after creating clothes or upholstering furniture, for example.
3. Upholstering furniture and other objects with textiles
Another great way to completely transform any part of your home and give it a second life is to place a new fabric cover. It will change its appearance completely and you can complement it in colors or textures with any other decorative set of your living room, your room or your bathroom.
You can also undertake a smaller, quicker and equally striking craft, such as lining the lid of any kitchen jar.
4. Make a DIY headboard for your bed
How many beds do we have without a nice headboard to take care of our dreams? Making your own headboard is as simple as taking a piece of wood, giving it the shape and size you want and that goes according to the proportions of your bedroom and your bed, and wrapping it with a textile that will inspire and relax you to sleep a very pleasant.
5. Cover your high ceilings with textiles
The latest trick today can help cover imperfections in the roofs of any room, tending fabrics and creating wavy shapes, with a majestic touch and very little money. Hanging textiles from ceilings and beams is a very creative and very effective solution to set parties and celebrations at home or in large spaces such as halls or halls.
6. Give a Visual Touch With Fabric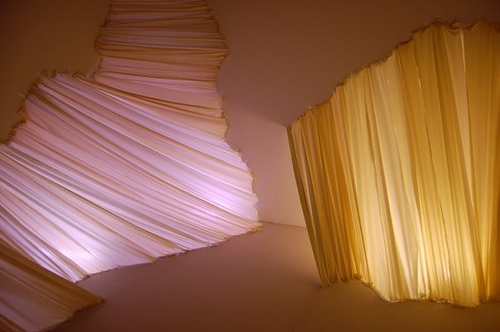 This last trick of today has an almost magical visual touch: you can place fabrics in front of windows, balconies and small windows - but also in front of artificial sources such as spotlights, fluorescent and light bulbs - to soften beams of light. You will see that it is a very beautiful and adaptable way to reduce its intensity and change its color, besides being able to combine several different fabrics to create fantasy pots.
The next time you consider giving a twist to your favorite corner of the house, consider doing it with textiles, a vaporous solution and very pleasing to the eye that will take you a minimal economic investment with surprising decorative results!
Categories