Decoration with fabrics for the home
Posted on August 17th, 2020 11:07 AM


Striped fabrics, with geometric designs, bold, discreet prints, with warm, cold, dark colors ... etc. We have a whole range to dress the house with different fabrics for the home but first we must recognize all its characteristics to understand the world of home textiles.
Understanding the fabrics for decoration , the different types of tapestries or the world of curtains is a must to know how to decorate a house with fabrics and that the result is satisfactory.
Through the weaving industries, fabrics are manufactured through the union of fibers and threads in different media, finishes, colors, materials and processes in a traditional or industrial way. Distinguishing between them is a difficult choice when practicing decorating with fabrics when the different characteristics are not known, so we are going to review some key points of interest.
Origin of the fabric and history
Before the fibers of artificial origin such as polyester or nylon that are widely used in the sector of fabrics for decoration , there were those of animal origin such as cotton or linen, which were the most used in the 20th century for the manufacture of fabrics.
Some materials have been used throughout history to make textile fabrics such as in the Crusade era that used byiso (very fine textured linen) or in China more than 6000 years ago and which used hemp for their manufacture.
Great inventors developed innovative ideas about textiles over the years using different technologies such as the Frenchman Joseph-Marie Jarcquard, invented a loom with perforated cards in 1801, Wasimoto Tajima who invented the first embroidery machine in Japan in 1962 or Andrés Murillo who used the fabrics as carpeting or upholstery in the home in 1996.
Composition of fabrics and fibers
In the manufacture of ecological fabrics, organic fibers obtained from cultivation are used without synthetic fungicides, pesticides or inorganic fertilizers, so they fully respect the environment.
Among the genres that compose it, they have two types of fibers, such as natural ones with animal origin (llama, cashmere, silk), vegetable (Manila, hemp, cotton). And artificial with regenerated fibers (viscose), synthetic with chemical compounds (polyester) or minerals (asbestos).


Types of fabrics and fabrics
Although we have a varied range in the classification of fabrics and types of fabrics , composition and cleaning. Among the different fabrics, a distinction is made between its composition or raw material that forms it. The types of fabric for decoration represent a great field in versatility, not only in material, but also in the technology with which they are manufactured.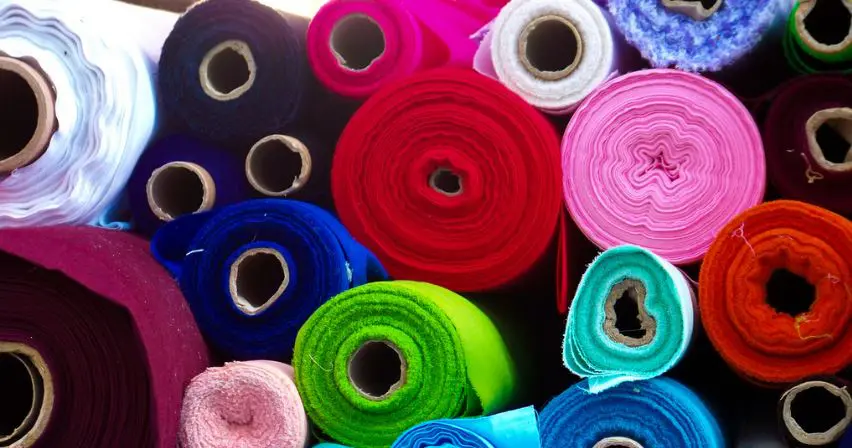 Dry cleaning: They are some fabrics rich in silks, sophisticated and resistant for upholstery or curtains such as brocade (silver or gold threads), moiré (satin silk in the shape of water) or chintz (satin cotton with a face polished with resin).
Hand wash: They are the most delicate and some stand out for their rustic appearance, such as burlap fabric (jute or bast), for curtains such as cambric (cotton or linen), tulle (mesh made of thread or cotton), originally from China such as shantung fabric (irregular wild silk) or with historical and literary patterned scenes (linen or cotton).
Low temperature iron: They are distinguished in their labeling by the symbol of the iron with a single point on some fabrics such as corduroy (velvet with a weft), flannel (thick wool ideal for upholstery), tweed (soft wool with houndstooth and speck of color) or tartan (wool in the shape of a Scottish plaid).
Machine wash: They are the most resistant to washing home fabrics such as chenille (very common in upholstery and with a velvety appearance), ottoman (thick shiny silk), piqué (cotton with geometric patterns in relief).
Tips for buying fabrics
Using a number of patterns and complementary colors in fabrics can create harmony between the different areas of a room and give continuity to the rooms in the home. We leave a few tips and ideas for decorating with fabric:
Decorate with coordinated fabrics
Geometric designs, stripes, patterns, and solid colors can work together to give a room style and appeal. Fabric manufacturers make it easy to coordinate by designing groups of drawings, different fabric prints, and complementary solid colors that can be used in any combination.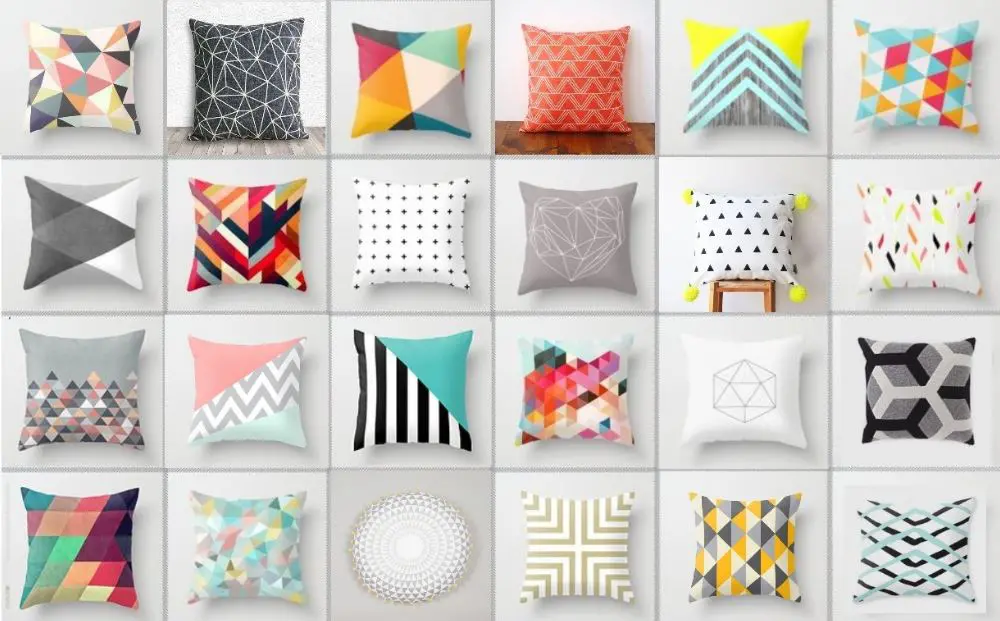 If you want to decide on the coordination, it is advisable to unroll the fabrics and compare them on both sides with natural light. Examine fabrics from various angles to judge design and color compatibility.
Always choose the fabric from the same roll
Fabric rolls usually come in batches with different dyes, be careful!… To avoid problems with slight color variations or differences in the printing of the pattern, you must compare the fabrics for a single roll creation.
Check the fabrics with drawings to make sure they are printed on the straight thread, this applies to all the ranges of decorative fabrics that we can use.
Ask for a sample of fabrics in stores
Consider where the fabric will be used and how it will blend with the other fabrics in the room. So you have to compare!
Most stores have cutouts or swatches of the fabrics they sell for decoration. Sometimes, they let you take it for a short period of time, this option will give the opportunity to see the fabric in contrast with the others and with the light of the house, which can be very different from that of the store.If it is not possible to purchase a complete fabric swatch, it is advisable to order a sample from the roll or purchase a small piece before investing in a larger fabric cut.
Tips for choosing fabric colors
Now it's time to give some useful advice in choosing the colors on the fabrics , it is useful to avoid wasting time or spending money in a consistent way:
The colors that are already in the room. When shopping for fabric, a trick is to bring a small piece of paint from the room and a sample of the carpet or a small cushion if any.
The wood tones in the room. The colors of the fabric can enhance the tones and richness of the wood.
Color affects mood. Pastel shades, neutrals, and cool ones like blues and some greens are calming. Bright hues and warm colors like reds and yellows tend to stimulate. Dark colors create a cozy atmosphere.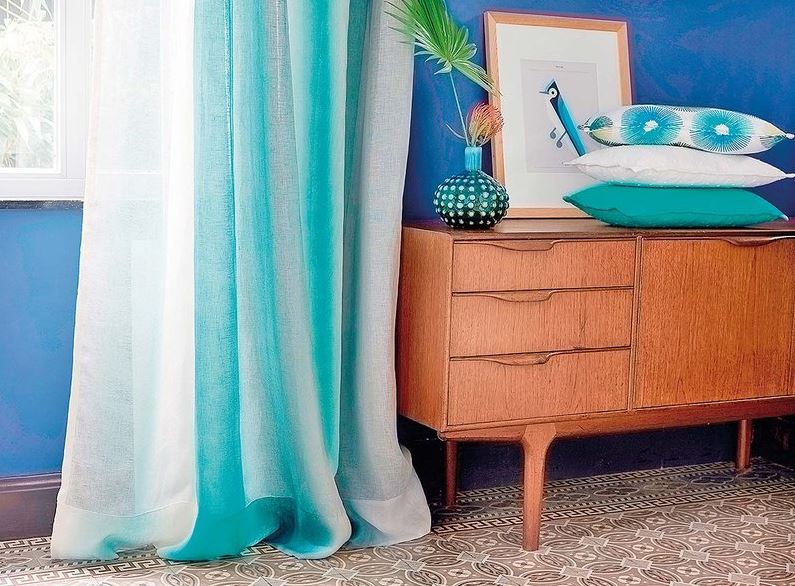 Colors alter perceptions. These appear darker in contrast to the light background, and lighter compared to dark surfaces. Warm colors make objects appear larger, while cool colors seem to move away. In general, avoid using strong colors in small rooms. We recommend reviewing the article of 11 tricks and ideas to paint walls that you have forgotten where there are several tips on color in rooms.
Keep the room layout in mind. You may want to warm a cold room with warm tones or cool a warm room with light blue tones.
Dirt stands out more on light tones than on dark ones.
In the windows, pale colors diffuse light, while dark ones obstruct it. It is advisable to keep a length of fabric in the sunlight to see if the desired effect is achieved.
Last, and most importantly, consider personal preferences. It is a matter of applying these tips and your own tastes to choose the colors and designs of the fabrics that beautify the home and reflect your personal style.
As a note, from the article on color in architecture you will be able to see an App that will help you identify and save the color you like in an easy way with a simple photo.
Categories