Diwali is here, give smart and attractive look to your house with these tips
Posted on October 29th, 2021 11:26 AM
The festival of Diwali is about to come and you must be thinking of decorating your homes in a beautiful and better way. The most important thing about Diwali festival is that on this day there is only light everywhere and there are no clouds of darkness. This is also the message of Diwali festival. There are different types of items available in the market for how to decorate your home in a very beautiful way on the day of Diwali. Relatives come home on the day of Diwali, you go to relatives' houses, in such a situation, it is everyone's wish to prepare a beautiful and attractive house. We all decorate our house so that people see it and appreciate it.
Let us have a look at some such tips, which can give a beautiful and attractive look to your home...


Decorate the house with lights
Colorful lights are the most important and most sought after decoration item in Diwali. By applying these lights, your home starts looking more beautiful than ever. You can install lights on the balcony or walls of your house.

Nowadays, there are many types of lights available in the market. It also comes with waterfall-like lights, which are seen falling towards the bottom. Apart from this, the best place to put lights is considered to be the roof of the house, here you can decorate the light by hanging it outside on the road side. At the same time, by putting lights on the trees and plants, you can decorate them.
Wall mirror for a glam look
Apart from lights, you can decorate your home with different types of wall mirrors. The market is full of such decoration items, you can buy a good and attractive wall mirror from any shop and put it on the wall of your home. They make your home more beautiful.

Along with this, you can put fairy lights or thick bulbs around the wall mirror, these will also give a glam look to your house or that corner and will make it more attractive than before. Wall mirror can be a good option for Diwali.
Decorate the house with floor lamps
Floor lamps can also be a good option for decorating the house. If you want, you can buy it from the market or you can also order it online. They are very beautiful to look at and also look stylish. Floor lamps give a different look to the house, they are slightly larger in size, so they should be installed in such a corner, where there is more space.

If a small table is placed near the floor lamp, then you can also put small lamps on it. This method will give a different look to your home and will definitely bring you applause.
Decorate with flower vase
If you do not have a very big space in your house, then you can also keep crystal flower vase in a small space. It looks very beautiful and gives an attractive look to the house. They look very stylish to look at and give complete relaxation to the mind. If you want, you can also put real flowers in it.

If you do not want to plant real flowers, then you can also apply fake and plastic flowers. The new type of plastic flowers give a good look and are also clearly visible. You don't need a big space for flower vase, you can keep it in a small space too.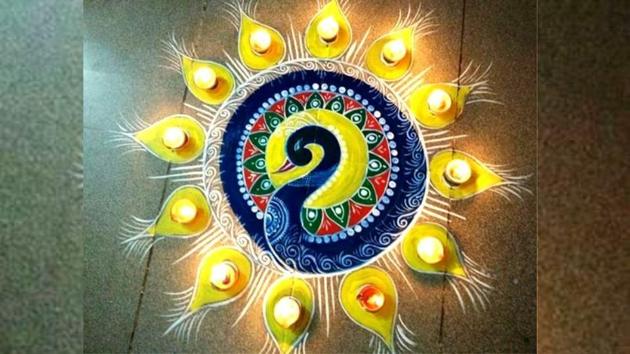 The most important thing on the festival of Diwali is to make Rangoli. Rangoli creates the atmosphere of Diwali and your creativity is also reflected in it. Now in the era of smartphones, you can see new designs of Rangoli on YouTube or any other video sites and can make them at your home.

Different colors are available in the market for making Rangoli. You can also use chalk, straw, diyas and candles for Rangoli. If you do not want to work so hard, then ready-made Rangoli is also available in the market, you can use it in your home.
Categories