How to create a fantastic bedroom in neutral tones
Posted on November 2nd, 2019 08:51 AM
When we talk about neutral tones in interior design, we basically refer to a term that means no color. Natural tones that move away from bright and striking colors. It is a color palette that inspires balance and peace . Therefore, a bedroom in neutral tones is always a good idea.
In addition, they are rabidly fashionable, and they will be for a long time. All rooms in the house benefit from a decoration in neutral tones, but, perhaps, the bedroom is the ideal place to recreate this sense of balance that is so necessary to recover when we get home to rest.
A bedroom in neutral tones provides nights of restful sleep and adds a plus of recollection and serenity. But what are the tones that we can use to decorate a bedroom in neutral tones?
Let's get away from the classic vanilla color on the walls, which has been forced into bedrooms for years. The palette of neutral tones is very wide, and offers us many shades to play and combine perfectly . There are many surfaces in a bedroom where we can apply our neutral tones in different grades and shapes. Let's see it.
We start on the ground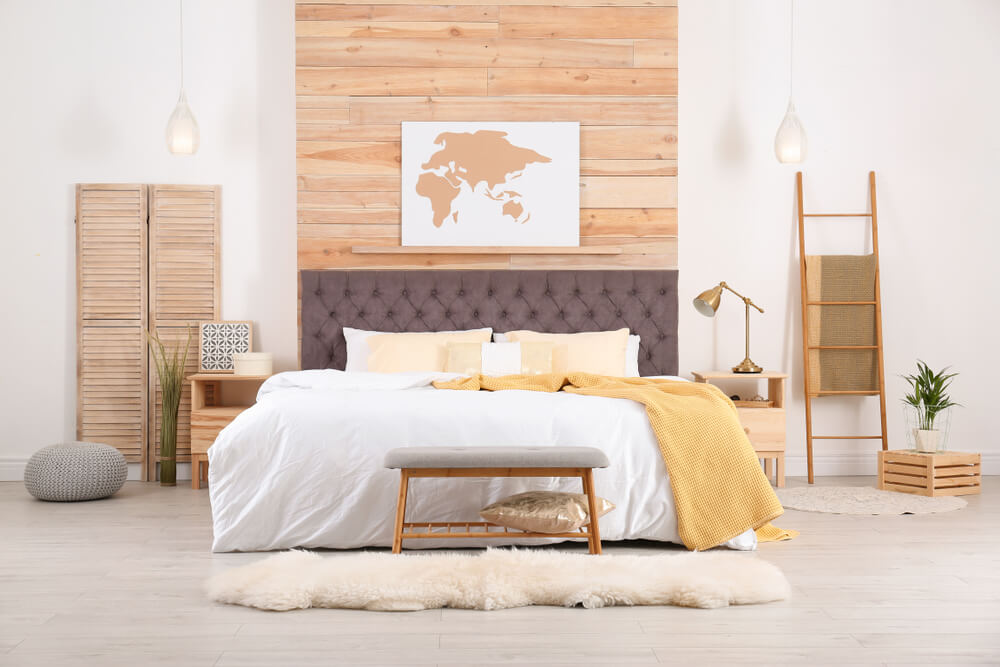 Generally, the floors of a bedroom can easily be found already in some neutral tone. The wooden floors or tiles in neutral colors (ivory colored earth) , serve as a basis to begin our bedroom decor in neutral tones.
It is for this reason that we will begin adding pieces from the ground to gradually work upwards . Some carpets warm and comfortable are a must in any bedroom. And for us the first opportunity to add a neutral tone to our design.
Natural fiber carpets, such as jute or sisal, are perfect. If what is intended is to get a better feeling of quality and coat, we will choose cotton rugs in soft stone or gray tones, taupes , or even white, beige or cream tones .
Discreet colors but of great power. We can opt for small side carpets, although the greatest impact is provided by large carpets partly covered by the bed . Even carpets in neutral tones make a difference.
The walls of a bedroom in neutral tones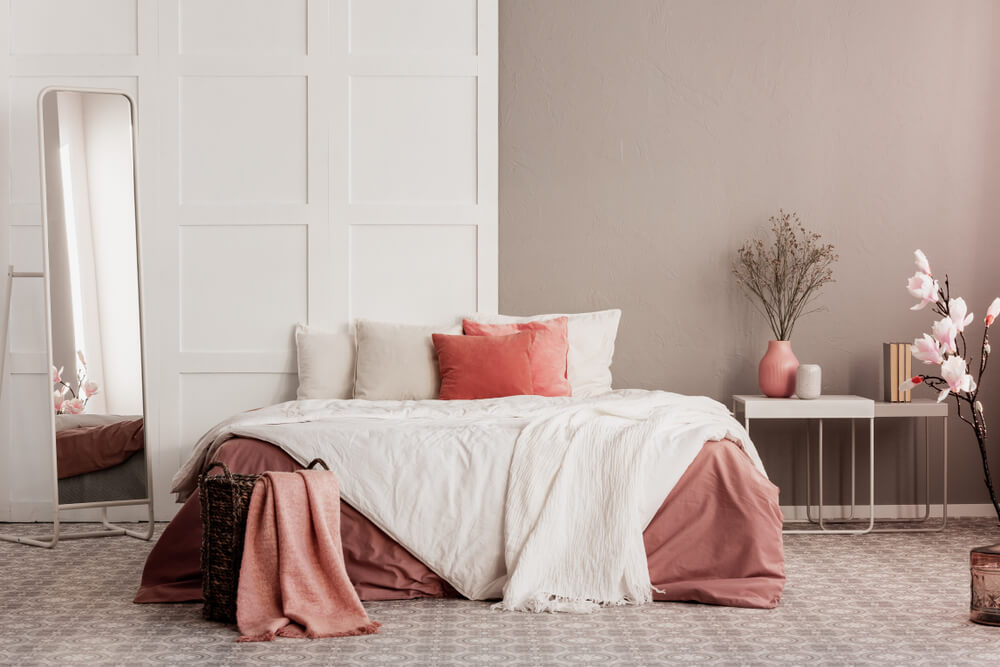 Based on our floor in neutral tones we can start working the walls. We will start by observing all the architectural elements of the room: baseboards, cornices or architraves.
The roof beams are also part of this second phase , as the roofs of the walls always consider in interior decoration.
We will plan a color scheme, and decide how many shades to use and where. Using more than one neutral tone, in the same or different range, adds depth to the space and gives it a strong character. Remember to include the ceiling in this color scheme , do not systematically condemn it to the traditional white tone.
The furniture of neutral tones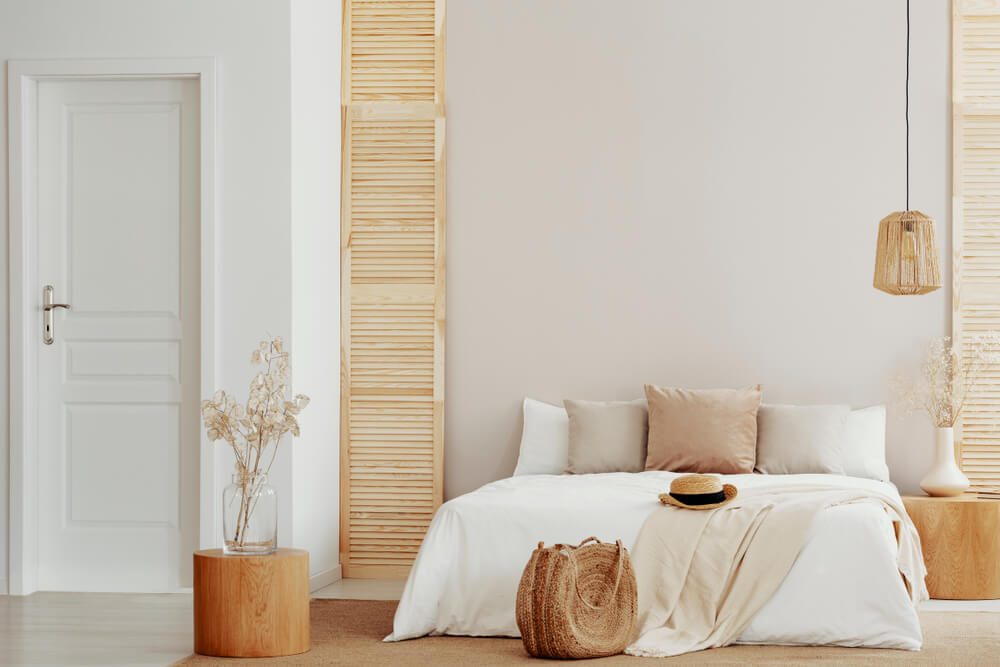 The furniture provides us with a source of inspiration and exploration of varied forms and materials . The wooden ones are perfect for a bedroom in neutral tones, but through painting we can achieve the same effect on other types of furniture.
Mirrors are other magnificent resources for a bedroom in neutral tones . We will see them both on walls and on furniture surfaces. Mirror bedside tables, even storage furniture, dressers and auxiliary mirror furniture are perfect for this type of decoration.
Fabrics for a bedroom in neutral tones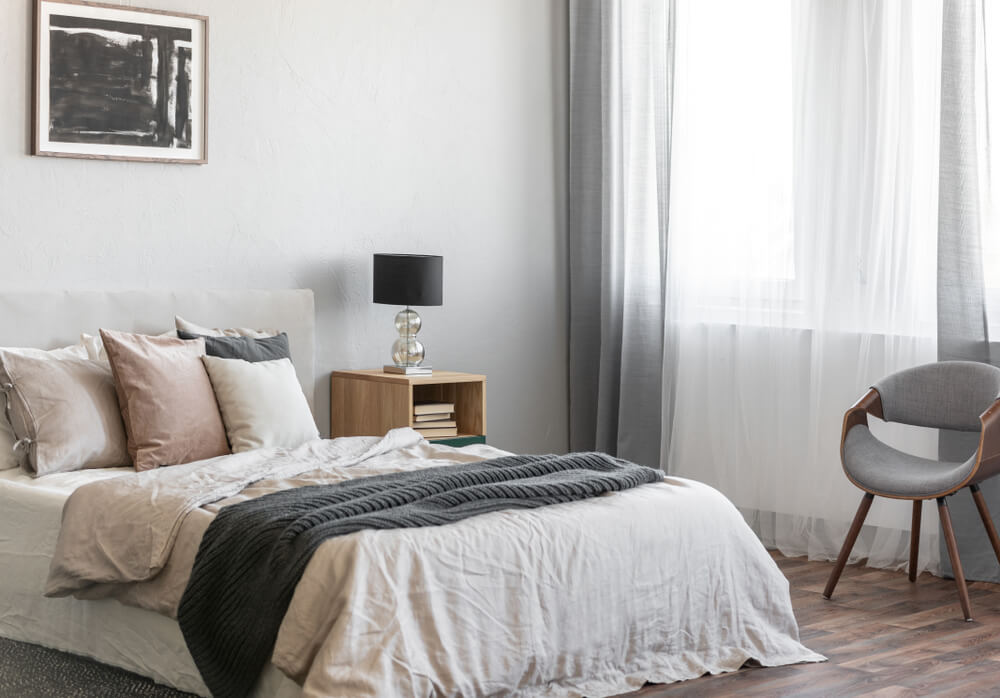 The textiles are the major players in the bedroom. It is one of the areas of the house that we will find more surfaces covered with fabrics . Therefore, curtains, quilts, blankets and pillows and all upholsteries offer us new opportunities to continue adding neutral tones.
We must also remember that it is the textiles of a room that give us greater and better options to play with textures . The different textures add visual richness, and make a space interesting.
Mix different textures, such as satin and silks, with luxurious velvets or mohair . Imitation skins are also another good resource for our bedroom in neutral tones.
Categories