How to enhance living room decor with cushions?
Posted on September 10th, 2018 08:32 AM
No more old cushions matching the sofa. Today, they are displayed as decorative elements in their own right, even mini-works of art. Whether laying on the bed, the sofa or on the floor, they bring relief to a room and a style to a decoration. No need to recompose your home sweet home to change the style of your home, just fall on some cushions connected.

Originality, good mood, allure, the cushions undoubtedly enhance a somewhat bland decoration or a sofa that has lived well. Cushions high in color to tone a decoration or noble materials to give the stamp, we like that they slice and they dress. But be careful not to overload or create dissonances. Here are some tips to make your cushions your deco asset.
Match Cushions With The Theme
A nice duvet cover or a new sofa that is your pride? Your cushions are there to put your favorite piece in value. Matching cushions or chosen in a similar theme will help create a cozy and warm atmosphere.
Contrasting Cushions For A Strong Look
If your interior has a strong element, such as a colored wall or an armchair fabric, a great way to highlight it, cheaply, is to bring contrast by small touches. Answer him through cushions chosen in a chromatic palette just as strong.
Tone On Tone Designs
For a touch of comfort and romance, nothing beats the cushions declined in tone on tone. Choose them in noble and authentic materials like linen or lace. The multiplication of the cushions will add only a notion of comfort without overloading, since the elements will be of the same color.
There Is Never Too Much When It Comes To Cushions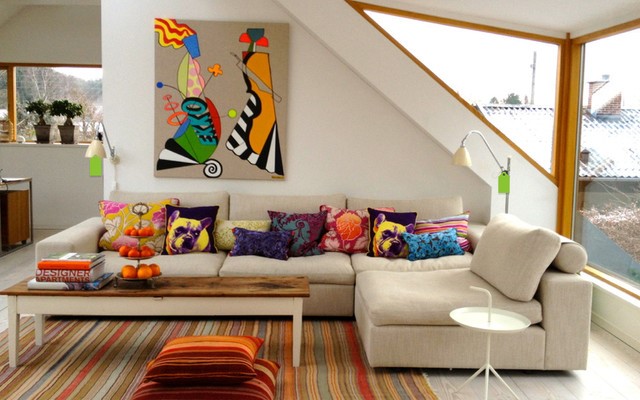 You do not want to spend too much money on your cushions and will not invest in design models? Never mind, play on the number instead. Small, big, linen or wool, enjoy sales and bargains to glean a nice collection that will give, by its abundance, character to your sofa.
Playing on the shades of colors
If you have a dominant hue in one of your pieces, be it a sober gray or a duck blue, play on a shades of matching colors by declining on different pillow shapes. The stylistic unity brought will be of the last elegance.
Playing on the grounds to give a look to a slouched sofa
The graphic patterns give style and a certain pace to a bland piece. The symmetrical printed retro wallpaper patterns allow many combinations. In terms of decoration, there are few stronger reasons: they immediately accent what we have on them.
IT'S ALL ABOUT DIMENSIONS
You read in our previous point, the amount also depends on the size of the cushions. It also depends on the dimensions of the sofa or bed. On average, a cushion for a three-seater sofa measures 50x50 cm. Of course, other sizes are not prohibited.
Choosing The Form Of Cushions
The ideal would be to mix the dimensions and play with the shapes of the cushions so that your decoration has a certain dynamism and style. Express your fantasy, choose square or rectangular cushions. If you are looking for more originality, dare the round cushions. Experiment to find the rendering you've always dreamed of. Ah yes, little trick, as in the class photos in primary, we place the smallest in front and the big at the bottom. Why ? To give depth.
SET OF TEXTURES AND PRINTS
The prints, there is something for everyone. The technique is to mix prints such as stripes, flowers and peas with solid color cushions. But beware, they must have a color in common. This identical hue will unify them and give life to your interior without having a screaming style. We advise you to choose a dominant color or maximum two. The other cushions must contain these colors or be able to be associated with them.
THE FINAL TOUCH
Yes, there is a little something to make the appearance of cushions more downy. Tap the center of the upper part, you will see that the corners of the cushion will straighten themselves. They will have the shape of a V. And now, you have your first scene worthy of a review in more natural.
Categories