Ideas for creating a breakfast nook in the kitchen
Posted on July 24th, 2021 02:35 PM
A breakfast nook is that place, usually located in the kitchen or its surroundings, that we use to wake up while we eat to face the day. So put like that, it seems like a big deal. Although we do not all respect that moment of the day even though it seems to us that we are doing wrong; I, without going any further, usually drink coffee in front of the computer, many times writing lines like these.
Of course, depending on the home we have, they will be very different (by force) from each other. If we have a large kitchen, the breakfast corner can be called, directly, the dining area. But if our space is limited, this corner should do justice to its name… So today we are going to see some ideas to create an acceptable breakfast area for any house, flat or apartment , because we all have the right to wake up properly.
5 ideas for having a breakfast nook in the kitchen (even if it's small)
Coffee by the window
What better than to look outside while clearing the mind after waking up. That is why placing the breakfast nook by the window is a great idea and, if we have good views, it is almost a must. With a bench under the window we will be able to respect the light that enters through it while framing it.
That gap that you have left
As we said, depending on the size of our home, we will have to be more or less ingenious to create this area. A good place for small flats is to take advantage of the gap that we named in the previous point, the one under the window. We also usually have a corner that we do not take advantage of and it would serve us for a small table. It is very important in these cases to adapt the furniture to the space to make it useful without cluttering it.
Tall breakfast nook
For long spaces , it is a good idea to put a bar next to the wall with some high seats. Thus we take advantage of the empty holes in the walls without removing too much width. If we choose furniture such as folding chairs and tables, we can gain even more space in the area.
Removable
The most radical option is to create a breakfast nook that is easy to remove and place, if we really do not have space for it. Apart from the folding furniture, we can use light pieces that we may use for more uses in the living room, for example.
A halfway idea would be to leave a small bench next to the table and, as required, add more seats on the spot. It will be an even useful option if you live alone.
If we do have enough space, a bench is perfect for our relaxing breakfast corner. You must have space to place it, but it can also be practical in small places if it has a storage space under the seat. If he is a cornerback, it will also help us to take advantage of those empty areas in the corners. In addition, it is ideal for houses with children.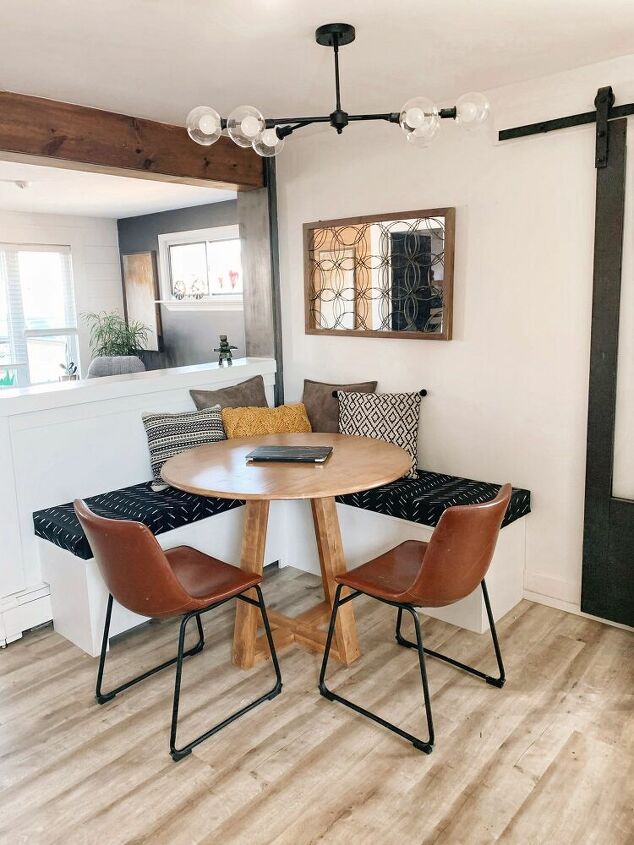 Categories