Ideas to decorate modern and elegant small bathrooms
Posted on January 24th, 2022 04:51 PM
More and more importance is given to the decoration of the bathroom inside the house and we want it to be a place to relax while at the same time we need it to provide us with functionality. We seek to have a comfortable, pleasant and practical place to start the day. But sometimes, achieving this is not an easy task and many of them are due to the little space we have.
In these cases, we must use as much ingenuity as possible and follow some tips to help us create the closest thing to the bathroom of our dreams. That is why today, we will see some ideas to decorate modern and elegant small bathrooms, because we can have it all if we know how .
white and wood
We start with an infallible combination such as the union of white and wood. If you want a minimalist bathroom but with warmth , this is your winning bet. The use of natural materials is the order of the day and, although in this room the wood must have a special treatment for humidity, the bathroom is no exception. It is a great idea to carry out in a small bathroom if what we are looking for is light and trend .
textures
To add the modern and elegant touch we can take advantage of the wide variety of tiles that we find today. We can give them a touch of color, but they will also help us to give our environment a little more texture if we do not choose them completely smooth. You can easily find them this way if they are handmade ; Another of this year's big trends is non-serial pieces, so they have all the elements we're looking for for a trendy bathroom.
Brightness
If there's one thing small bathrooms need, it's all the available light. Of course, if it is natural better than better, but we all know that this is not always possible. That's when you have to pull tricks up your sleeve and turn a dark bathroom into a bright one. The first thing to do is place some nice and useful lamps , both on the ceiling and in the sink area. As a complement, the sensation of light can be increased thanks to mirrors and light colours .
smart storage
As in any small room, we must use ingenuity to fit everything we want. Storage in the bathroom is very important but sometimes we don't even have room for a small cabinet or shelf . Luckily, there are multiple options to solve this problem, such as vertical organizers that we can even hang behind the door or wall shelves . None of them will take away too much space, but they will fulfill their extra storage function.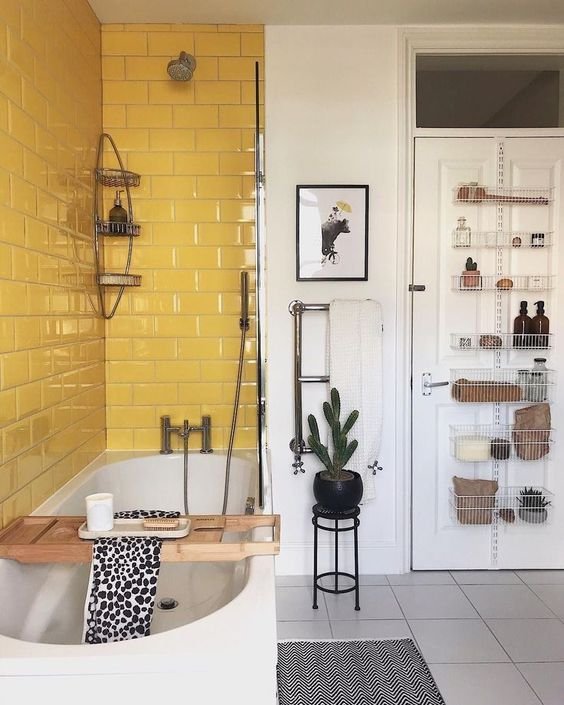 Personal touch
That you have a small bathroom and that you want it modern and elegant does not mean that you do not give it your personal touch. In fact, it should be the opposite. Do not forget to leave a bit of your personality in it and dare with something that you really like .
Categories