Mix and Match: Styling Tips for Pairing Hand Block Printed Bedsheets with Different Decor Themes
Posted on August 5th, 2023 12:21 PM
Adding hand block printed bedsheets to your bedroom can instantly elevate its aesthetic appeal, thanks to the intricate designs and vibrant colors. These beautifully crafted textiles are not only a testament to traditional artistry but also offer a versatile option to complement various decor themes. Whether you prefer a bohemian-inspired look, a modern and minimalistic vibe, or something more eclectic, we have you covered with our top styling tips for pairing hand block printed bedsheets with different decor themes.
1. Embrace Boho Chic:
For a bohemian-inspired bedroom, seek out hand block printed bedsheets with bold patterns and earthy colors. Opt for warm tones like terracotta, mustard yellow, and burnt sienna to create a cozy and inviting atmosphere. Pair your bedsheets with mismatched pillows and throws, mixing patterns and textures for an eclectic feel. Embrace the imperfect beauty of hand block printing, and don't be afraid to experiment with layers to achieve that boho-chic look.
2. Contemporary Elegance: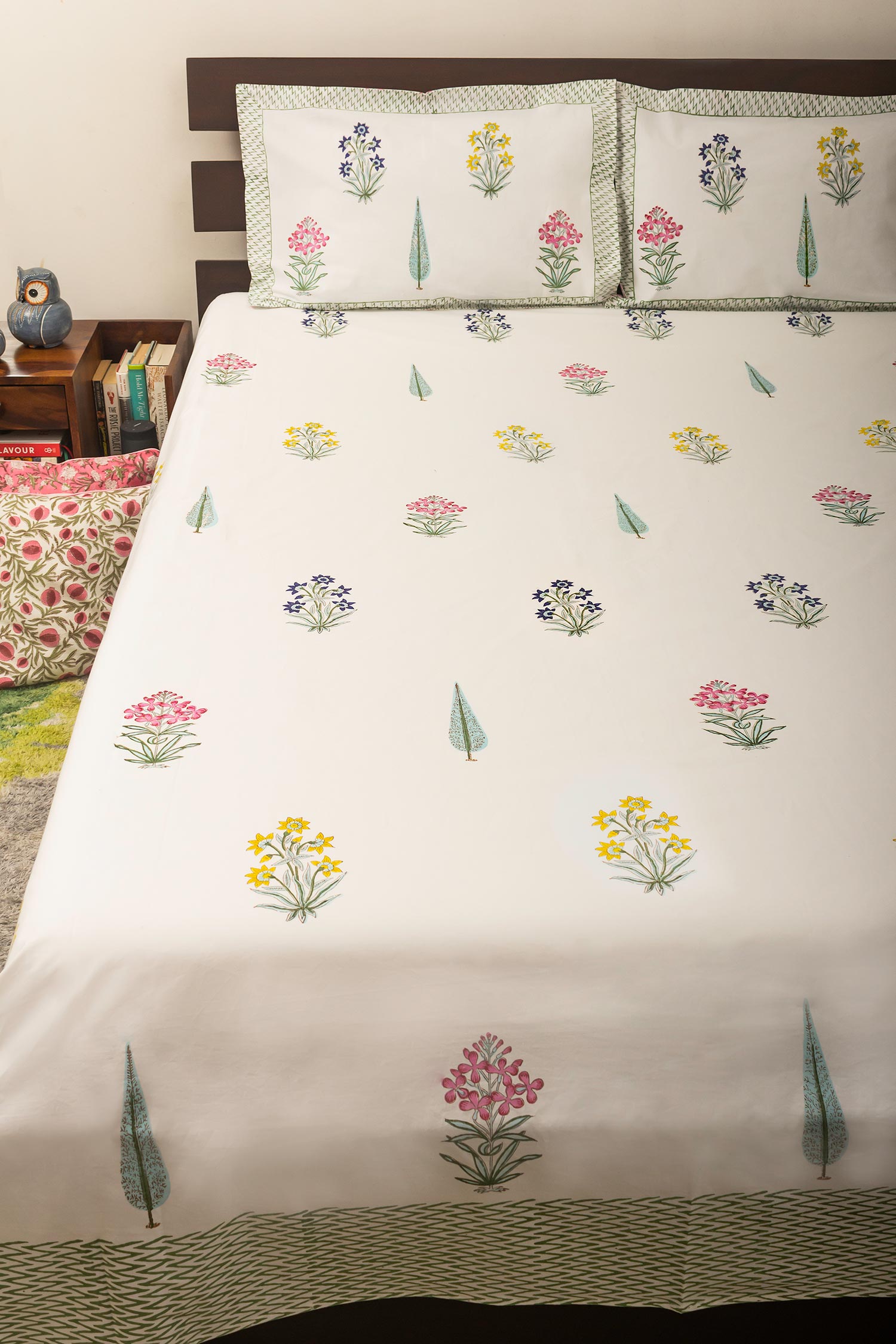 If your decor theme leans towards contemporary elegance, select hand block printed bedsheets with clean lines and subtle designs. Stick to a neutral color palette with soft greys, whites, or pastel shades to create a soothing ambiance. Avoid excessive patterns and keep the focus on quality craftsmanship. Complete the look with sleek, modern furniture and minimalistic decor pieces to maintain the contemporary feel throughout the room.
3. Vibrant and Colorful: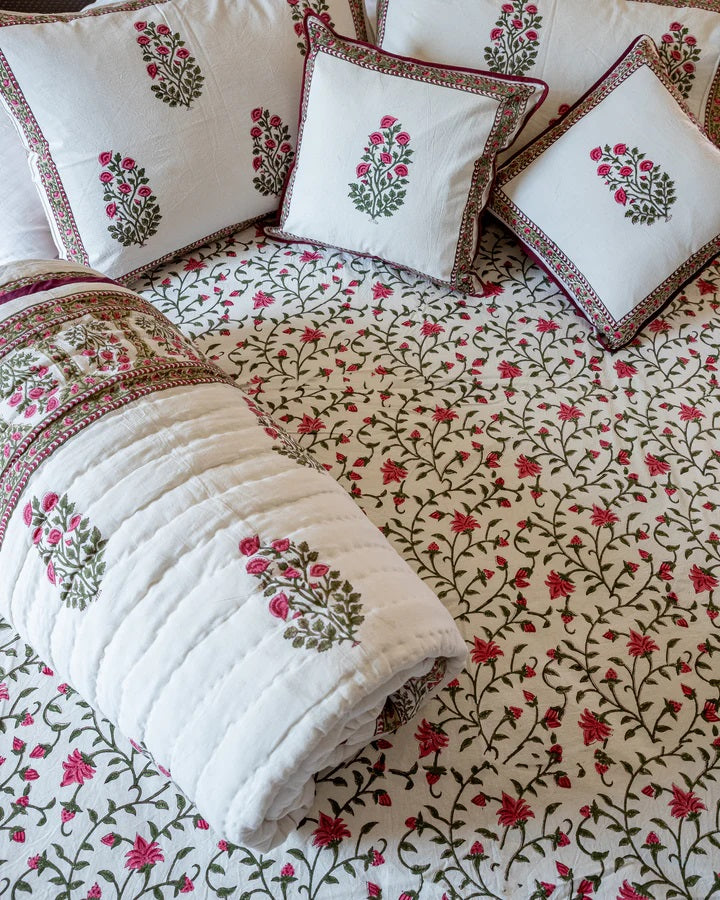 For a burst of energy and liveliness, go all out with vibrant hand block printed bedsheets. Look for bold floral patterns or geometric motifs in eye-catching colors like fuchsia, turquoise, and lime green. Balance the vibrancy with neutral walls and furniture, allowing the bedsheets to be the star of the show. Add pops of complementary colors through decorative elements like cushions, rugs, and wall art.
4. Classic Charm:
Achieving a classic and timeless look with hand block printed bedsheets is effortless. Choose traditional block prints in soft, muted tones like indigo blue or soft pink. Look for intricate designs that showcase the artistry of the craft. Accessorize with vintage-inspired pieces and elegant decor elements to complete the classic charm of your bedroom.
5. Eclectic Fusion:
If you enjoy blending various decor styles, embrace an eclectic fusion theme in your bedroom. Mix and match hand block printed bedsheets with other textile patterns, like ikat or batik, for an exciting and unique look. Experiment with contrasting colors and patterns to create a visually stimulating space. Remember that eclecticism thrives on personal expression, so don't be afraid to infuse your personality into the decor.
6. Coastal Retreat:
For a tranquil coastal vibe, opt for hand block printed bedsheets in soft blues, sandy beiges, and whites. Look for designs inspired by sea life, waves, or shells to evoke a coastal ambiance. Add natural materials like rattan, wicker, and driftwood furniture to enhance the beachy feel. A few nautical-themed decor pieces, such as ropes or anchors, can further elevate the coastal retreat atmosphere.
7. Nature's Haven:
Transform your bedroom into a nature-inspired haven with hand block printed bedsheets that feature botanical motifs or fauna designs. Choose colors that mimic nature, such as leafy greens, earthy browns, and floral pinks. Bring the outdoors inside with potted plants and floral arrangements to complete the serene and refreshing decor theme.
8. Global Wanderlust:
Indulge your wanderlust by incorporating hand block printed bedsheets from different cultures into your bedroom. Seek out designs that reflect the aesthetics of India, Morocco, or other regions known for block printing. Don't shy away from mixing patterns and colors from diverse cultures; the key is to celebrate the beauty of global diversity in your decor.
Hand block printed bedsheets offer endless possibilities when it comes to styling your bedroom with different decor themes. Whether you prefer a bohemian, contemporary, vibrant, classic, eclectic, coastal, nature-inspired, or globally influenced decor, these versatile textiles will effortlessly complement your vision. Remember to let your creativity shine and have fun experimenting with various combinations to create a unique and captivating bedroom space that reflects your personal style and preferences.
Categories