Spring decoration ideas and tips
Posted on March 18th, 2019 09:55 AM
Spring is finally here and it's time to celebrate the new season, the coming of a new season and the beautiful weather. One way you can celebrate this great weather is to decorate your house for spring.
This is a time for spring cleaning, because you know it's a good time to renovate your home, especially the main rooms that visitors see when they come to your house.
The natural materials, increasingly fashionable
The textiles of the home should be combined with furniture and accessories, so, we must analyze what it takes for this spring at home. And we find that natural materials are the most requested. The wood, the raffia or the cane, are some of these materials of which we speak and that combine perfectly with the natural materials in textile, like the fresh linen and the cotton, both very suitable for when the good weather arrives.
Nordic trends and rustic tendencies get along very well with these natural materials , and the decorations become very simple, in some cases even sober. This implies that home textiles should provide the point of informality and color that is missing in this type of decorations, but without falling into excesses that would make them not suitable.
Textiles must also provide a point of home that in spring translates into freshness. Therefore, you have to know how to play very well with colors to achieve a good balance between that freshness and the neutrality that is fashionable. Neutral tones are a trend, as we will see, but there are also certain colors, such as green, that remain in the color palette for spring and that bring a lot of freshness and color without being excessive.
For the walls, the white, the very light gray or the pearl color is worn. This type of tones bring light to the rooms and make them look fresher, and larger, so they are perfect for small apartments. However, you have to know how to give them a note of color in the decoration, for example, in the curtains, or there will be the risk of resulting in very cold and soulless walls.
The wooden floors contrast with these white walls, and are a touch of warmth very important. It does not matter if it is real wood, if it is a floating platform or even if it is a ceramic floor that imitates this material. But if you do not have wooden floors, the coconut fiber or sisal carpets can be a good alternative to highlight a natural material.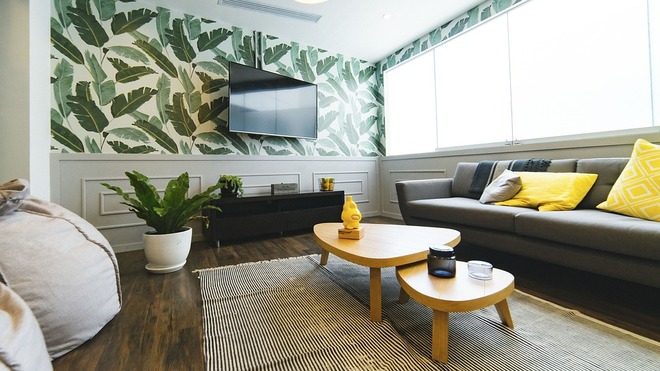 Neutral tones are trend
As we have already anticipated, neutral tones are a trend for this spring. The beige and earth tones are ideal for any room, but do not forget that, spring asks for a pinch of color that has to come from elements, such as foulards, for the sofa or as cushions.
The intense and cheerful colors are admitted in the scarves , since they are an element that is not permanent, and that, therefore, does not run the risk of tiring. The same goes for the cushions, since these can be varied as much as you want and, in addition, because of their size they are never excessive.
The green is reaffirmed as a current color
One of the colors that can not miss in your decoration for this spring is, without doubt, green. If during the winter the bottle green was the most striking trend, now it is the green inspired by nature that will have the most prominence.
It combines very well with the neutral tones to give them that contrast that we talked about, but also fits perfectly with the philosophy of decoration based on natural materials, since the prints of leaves and large flowers will accentuate this feeling of nature.
We are going to tell you that green is not going to be the only color trend for this spring , but that some new ones arrive that are very surprising and beautiful, but we will talk about these in future articles, because we can not discover everything in a single week.
Categories