STYLES TO DRESS AND DECORATE A 'FORMAL' TABLE
Posted on December 12th, 2021 08:07 PM
The way we decorate and dress a table can make a difference at a dinner or lunch. If we want to celebrate something special, to surprise your guests or for a specific event, a family gathering, anniversary, etc. nothing like decorating our table in a different way than usual to capture the attention of our guests and create a differentiating environment.
In this post we bring you some inspiring ideas to dress your table for those occasions when you want to celebrate something special, in the end we collect all the keys that you must take into account.
White and gold


In this case we bet on white and gold in the cutlery with a minimalist and very elegant linen napkins with geometric motifs also in this tone. The center of the table is presided over by a composition of candles in different heights also in white. Elegant and subtle in equal parts, don't you think?
TIP to achieve this style : choose a neutral color (white) and an accent color (gold, copper, silver, red…). .
Rustic and cozy
In this second example, a more colorful and vivid composition has been created with autumn and natural elements. In addition to the decor created on the side with different vases and crystal vases, table stands out thanks to the way it was dressed in red cloth napkins and placemats linen in natural tone.
TIP to achieve this style : theme your decoration with elements of each season. For example, in spring flowers and plants (and bright and fresh colors like green), in autumn nuts, pinecones or branches (warm colors like brown or scarlet), in winter add a Christmas touch like a garland or holly (colors like red or green) ...
Geometric lovers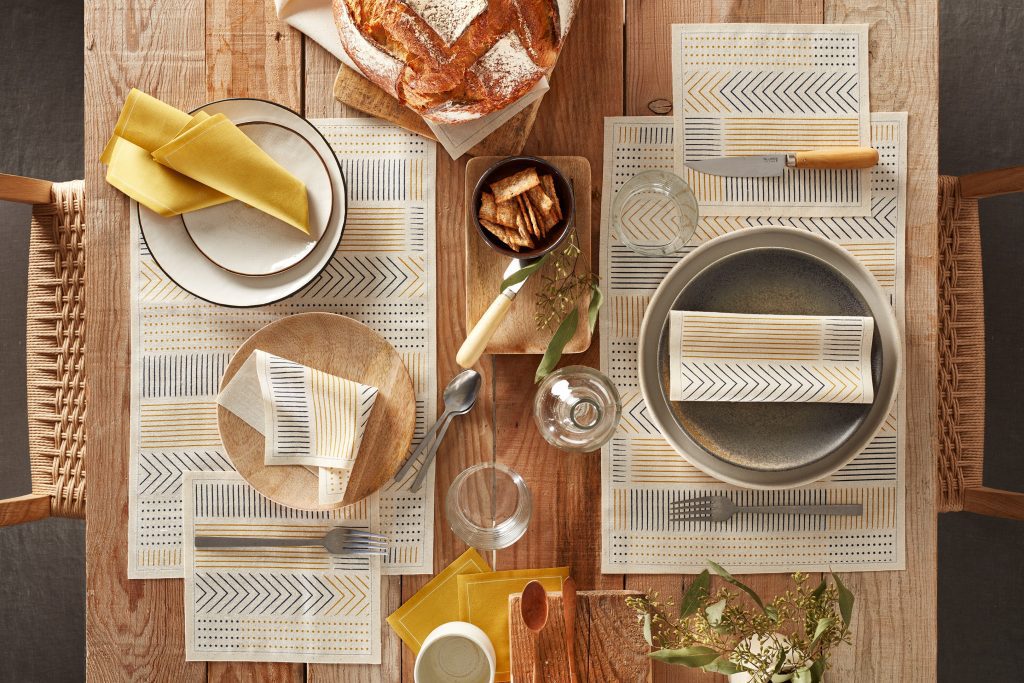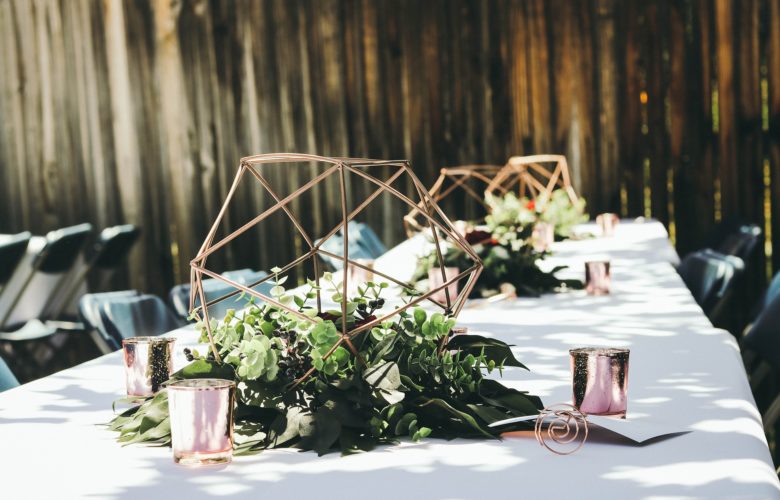 Lovers of geometric shapes will not be able to resist a design with simple but fun patterns and made from recycled cotton. In this case, the color palette is made up of curry and petrol blue that also combines perfectly with the natural wood of the table or wooden tables where we can present the center food.


Keys to decorate your table with success
You see that with very little you can create a very striking and colorful impact. As in these examples, we can rely on key elements to make any evening exquisite. We collect some keys to keep in mind when decorating your table:
Table linen : use a neutral base color on which to place the rest of the pieces. Sometimes it is better to use individual tablecloths and use the material of the board itself as one more element of the decoration.
The cloth napkins can be your greatest ally : a colorful textile composition makes a difference when dressing your table. Make the most of this resource!
Natural elements : complement the decoration of your table with a natural touch. A few twigs, pineapples, a vase with aromatic herbs (which can even be used to accompany a dish), some seasonal fruit that later serves as a dessert ... Imagination to power
Decorative accessories : use candles or vases to create a harmonious composition that matches the colors of your composition, but be careful not to overload. This type of decoration, although very beautiful at first glance, can be annoying when it comes to arranging the dishes on the table. Do not saturate the table with these types of elements, go to the functional!
Categories