Decorate Table with Table Linens
Posted on October 22nd, 2018 08:44 AM
A nice table adorned with an elegant table linen and a beautiful tableware, a good meal shared with those we love, these are the ingredients to create moments of simple happiness.
The place where we like to meet family, to receive friends, is around the table ... That's why we like to personalize it by dressing and decorating it with a nice tablecloth and matching napkins, add sets or a table runner. The table linen is an essential accessory of decoration to create a warm and harmonious environment.
Some choose their linens and especially their table linen to follow the trends, play on the style of their interior, colors, materials or simply because its maintenance is easy.
The table linen consists of kitchen linen such as the cloth or the apron and pieces of linen that are available on the table, such as tablecloths , napkins table mats and table runner.
TABLE LINEN AND DECORATION. HOW TO HIGHLIGHT A TABLE?
Looking for harmony, comfort, ease of maintenance, the criteria of choice of their table linen vary from one person to another according to what they wish.
From a purely aesthetic point of view and to be an element of decoration, the material as well as the size of the table linen and more specifically of the tablecloth are important because it must be adapted to the table and have an elegant fall . We will also choose patterns and colors that match the color of the walls and the rest of the decoration.
The tablecloth is an important decorative accessory to mark a particular event, give the table a festive atmosphere or simply hide and dress a table that is not very pretty.
You can choose a bright color to energize a room or bring an original touch to an interior too dull, plain or patterned to give style to your table. We can complement its decoration with original cutlery, a nice coordinated dishes or by arranging candles, glitter, flowers or other decorative accessories ...
Setting the table with napkins coordinated with the tablecloth and elegantly folded is a simple and inexpensive way to create a pretty table. Folding napkins can harmoniously complement the decoration of your table.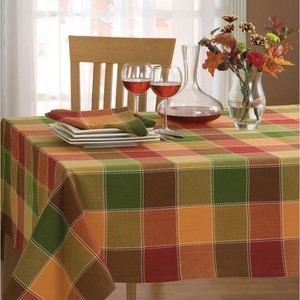 A simple table runner matching the tablecloth or placed directly on your table can radically change your decoration by personalizing it. Generally rectangular, it can also end in a point and be embellished with a particular finish such as a tassel, a pearl or a trimmings.
The set of table is a simple and inexpensive way to bring a decorative touch and customize a table according to your desires.
Themes For Table Decoration
The trends are in the Nordic, ethnic, minimalist or nature-inspired or seaside. The table linen follows the same trends.
A Nordic decoration will invite light and conviviality to your table. We will choose a table cloth in natural material, authentic, and we will contrast the white and black, or the white with soft and powdery colors in the yellow, blue, gray or pink ... We can also play the clean lines, geometric patterns.
An ethnic decoration is inspired by African, Indian or Inca cultures ... For the table, the ethnic decoration can be done by small touches. If the decoration of the room is sober and discreet, we can have a tablecloth or napkins with traditional ethnic motifs, geometric and symmetrical. And if other ethnic elements are already present in the decoration of the room for example if the walls are adorned with motifs or ethnic details or an ethnic carpet is placed on the ground, we will prefer a tablecloth in natural material and solid color . we can add craft accessories.
The minimalist and Zen decoration reduces the decoration to the essentials. We will play sobriety with a simple and clean decoration and table linen white or gray or black. We can have just a few small pebbles or lotus flowers to give his table a Japanese spirit.
For a decoration inspired by Nature, the tablecloth will preferably be in natural fiber in pale green, ecru, sand, string. Small wicker baskets or bamboo baskets, dried flowers or some leaves or small branches can be arranged during nature walks.
To highlight the table and recreate a seaside atmosphere, we opt for colors reminiscent of the ocean and sand. A tablecloth made of natural material will be placed on the table in blue tones, in shades of beige, white, blue and white stripes, gray, yellow. We can add some objects related to the theme like seashells, starfish.
Buy Linens Online
You can find a wide variety of gorgeous table cloth's & napkins online on our store. Make sure to check it out!
Categories