Tips for decorating a dining room
Posted on May 29th, 2021 01:26 PM
In many countries it is more than usual to have a dining room in a single room instead of two separate rooms, one for each function. This characteristic can occur because the house is loft type or because you want to have an open space without barriers. But it is also common that more for pleasure is due to lack of space to have more rooms ... Be that as it may, today we review some basic tips to decorate a dining room with style and practicality , trying to get the most out of it.
Size does matter
Choose the size of your furniture well so that the dining room is neither crowded nor empty. It is not necessary that when distributing this furniture everything is glued to the wall even if the space is small, since sometimes we can achieve the opposite effect to the desired one. Yes, it is important that once the furniture has been placed, the minimum distance is respected to be able to pass between them without difficulty.
If your dining room is not very large, another good idea is to choose light furniture and neutral colors . A round dining table with narrow, centered legs will lighten the mood and be more practical. You can also opt for a folding or extendable table , which you only enlarge when visitors require it. So the rest of the time you will enjoy that extra space.
Define the spaces
Try to distinguish the two spaces with elements that, although not structural, help to visually separate the living room from the dining room. A very useful trick to achieve this is to place rugs , either in both areas or only in one of them. The necessary requirement is that they be of adequate size to cover the area to be delimited.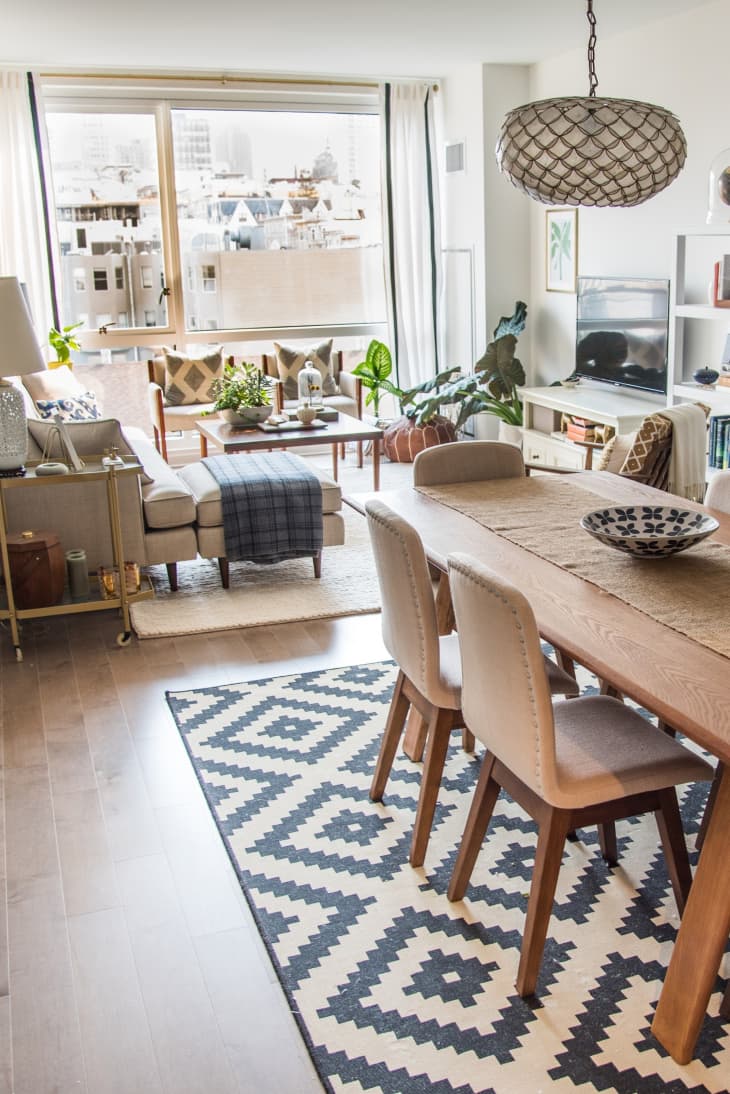 The rugs can also serve you, in addition to visually separating, to frame the delimited area, but it is not the only thing that achieves it. By decorating the wall area above the sofa with pictures , you can help further differentiate the living room from the rest. You will also make the ceiling appear higher if you choose sheets or photographs with an elongated shape and a good size.
By just following these simple tips, you will get a dining room with a well-used space and with better defined areas. Sometimes it is not difficult to achieve a good result in interior decoration, right?